Awesome Ajuna Avatars
Season 1 - https://aaa-s1.ajuna.io
Season 2 - https://aaa.ajuna.io Guide Awesome Ajuna Avatars Guide V1.0/22.08.2023
AAA Game - Awesome Ajuna Avatars
Collect, mint, forge and become Legendary. The age of the Battlemogs is coming and AAA is here to provide you exclusive content and addictive fun inspired by Ajuna studios upcoming game.
Basic
Each season will be based on a specific Ajuna Network game theme. The first season is based around the Mogwai creatures from Battle Mogs, Ajuna's flagship game.
Every season will start at a fixed date. For the first 48 hours, only whitelisted addresses are able to mint AAA. Afterwards, everyone can start minting. Once the fifth Legendary AAA is forged, the season will end and no more can be forged, other than free minting.
A Legendary AAA is an item where every variation is at the highest level. Legendary AAAs can evolve into the highest and rarest form, "The Mythical AAA".
Mint
AAA are NFTs that can be minted. Minting is always related to a specific, unique season. Each season is time limited and once it ends, no more AAAs for this theme can be minted.
When an AAA is first minted, each variation is set to the lowest level. For each season, there are over 5 million possible variations. In order to mint an AAA, you need to pay both a minting fee and a transaction fee, both of which are payable in BAJU. Minting may be incentivized through batch discounts or discouraged through minting cooldowns.
Forge
Forging is a way to sacrifice and burn two or more AAAs for one higher-level AAA. In order for this to work, both AAAs must have a certain number of similar variations. Forging will enhance the lowest level variations present in the AAA. Forging is an irreversible process. Once a Legendary NFT is forged, it will be announced on the network to let everyone know that a new Legend has been born!
Rule
Legendary AAAs will be very special in the Ajuna & Bajun ecosystem. The idea is to make them usable as in-game assets in as many games as possible. In addition, they will attain a governance right when they reach mythic status. Some of the rewards of holding a legendary AAA are yet to be revealed…
Season 1 — March, 2023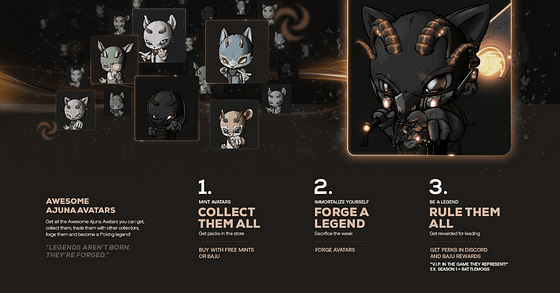 The first season of AAA was centered around the game BattleMogs, which will launch on Ajuna Network. In Season 1, users had the opportunity to create their own Avatars through a basic forging game loop. Season 1 Avatar holders gained access to exclusive benefits, including enhanced Discord roles, entry into giveaways, and participation in exciting Hunts and Discord Quests. Additionally, Season 1 Avatar holders will enjoy exclusive access to the Beta Testing phase of BattleMogs and additional perks which will come at launch.
Pre-Season 2 Launch — July 28, 2023
Season 2 of AAA introduces Pets for the Awesome Ajuna Avatars. It allows users to personalize their Avatars through crafting further, all done on-chain. Season 2 also brings the introduction of On-Chain Ajuna Missions, set to launch in September 2023. These missions will be available to all Legendary holders of AAA, regardless of the Season. Technical achievements of Season 2 include creating generic item representations, a template for third-party teams, and utility through NFTs in missions.
Awesome Ajuna Avatars Roadmap 2023
Mini-OG Onboarding Close — July 14, 2023
We will conclude our Mini-OG Onboarding phase and subsequently close down the Whitelist and Welcome Gift distribution.
OG Purge — July 21, 2023
We will initiate the OG Purge on Discord, a thrilling activity where OG's with Avatars can participate in hunting down fake OG's without avatars. As a reward for their efforts, they will earn Free Mints.
Pre-Season 2 Launch — July 28, 2023
We will kick off the official AAA Pre-Season 2. This highly anticipated event will be accessible to all Mini-OG's and OG's. During the pre-season phase, minting (BAJU & Freemint) will exclusively open to accounts holding at least 1 Freemint.
Season 2 Launch — August 4, 2023
We will launch AAA Season 2 and minting will be open for everyone.
Missions & Quests — September 2023
We will introduce extraordinary adventures for all Rare and Legendary Avatar holders. Prepare to embark on thrilling missions with your Avatars and unlock awesome rewards along the way.
Wildcard Testing — October 2023
We will mark an important phase as we commence testing our NFT cross-chain transfer capabilities. Collaborating with our partner, PolyCrypt, we will ensure the smooth and secure transfer of NFTs across different chains, expanding the possibilities and accessibility for our users.
AAA Season 3 with Evrloot — November 2023
We are planning to launch AAA Season 3 in collaboration with Evrloot: Stardust Colonies. Together, we will launch a captivating new game that will captivate and engage our community in unprecedented ways.
BattleMogs Beta Testing — December 2023
We will open up early access to the Beta Testing phase of our flagship game, BattleMogs for all OG's. This exclusive opportunity allows our dedicated OG's to be among the first to experience and provide valuable feedback for this highly anticipated release.